Concrete to Canvas 1 & 2
Concrete to Canvas: Skateboarders' Art
By Jo Waterhouse
Foreword by: Christian Roth
Design/Layout by: David Penhallow
Cover Artwork by: Niko Stumpo
Published by: Laurence King Publishing November 2005
ISBN: 1856694577
Concrete to Canvas: Skateboarders' Art was the first book of its kind to bring together a wide variety of artwork produced solely by artists who are skateboarders. The idea came from the work I was doing for an online magazine I'd co-founded, writing about and interviewing artists who were also skateboarders. The idea behind the book was to showcase the fantastic artwork being produced by skateboarders, whether that's pro skaters or professional artists who also skate. I wanted to provide a window into what is essentially a subculture within a subculture, and to show the huge talent and diversity in genres and style that makes it impossible to pigeon hole the artists or artwork. The book includes examples of fine art, illustration, graphic design, street art, paintings, doodles and installation. The artwork itself does not necessarily directly relate to skateboarding in any way, and it isn't about board graphics, as the object of the book is to showcase personal work of artists who happen to be skateboarders, whatever form that artwork may take.
The featured artists are:
Rob Abeyta Jr, Vaughan Baker, Chris Bourke, Eric Broers, D*Face, Lori D, Dave the Chimp, David Earl Dixon, Max Estes, Fos, Andy Howell, Ichi the Bunny, Andy Jenkins, Bob Kronbauer, Randy Laybourne, Michael Leon, James Marshall, Stefan Marx, Craig Metzger, Travis Millard, Andy Mueller, Simon Peplow, Andrew Pommier, Bobby Puleo, Log Roper, Michael Sieben, Niko Stumpo, Ed Templeton and Chris Yormick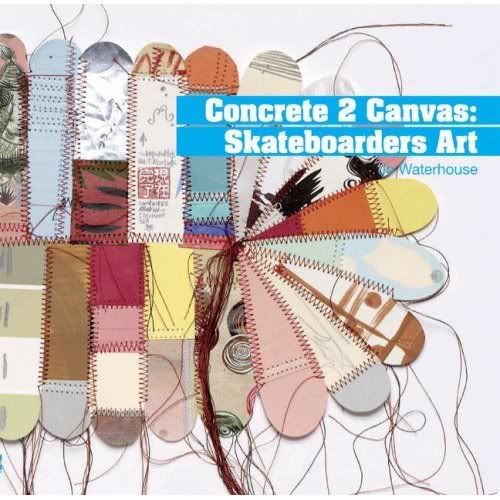 Concrete 2 Canvas: More Skateboarders' Art
By Jo Waterhouse
Foreword by: Lori D
Design/Layout by: Stef Grindley
Cover Artwork by: Thomas Campbell
Published by: Laurence King Publishing October 2007
UK Price: £12.95
ISBN: 978-1-85669-531-2
Concrete 2 Canvas: More Skateboarders' Art followed on from the success of the first book to bring you even more artwork by skateboarders, featuring work by all new artists.
The featured artists in Concrete 2 Canvas: More Skateboarders' Art are:
Stephen Ashton, Lee Basford, Thomas Campbell, Chris Dyer, East Eric, Ekta, Fernando Elvira, Martin Fischer, Jeremy Fish, Flying Fortress, French, Mr Gauky, Mike Giant, Kev Grey, Stef Grindley, David Hale, Jim Houser, Thom Lessner, Majls, Finn Neary, Nomad, The Phono Art Ensemble, Yogi Proctor, product.two and Eric Pentle, Toby Shuall, Joe Sorren, Andrew Jeffrey Wright